Deansgate Minibus Hire
With Deansgate Locks, Castlefield and the Beetham Tower at one end and the National Football Museum and Victoria Station at the other, Deansgate is the central link to many of the city's attractions and transport centres.
With our head office being in Manchester, we are more than aware of the trouble of getting big groups in and out of Deansgate on a busy night out, luckily when you visit the Deansgate locks with our affordable minibus hire we can make sure you and your group all get to and from your destination with ease.
All of our drivers are from ain and around manchester and can handle the traffic.  We can pick you up and drop you off at any time of the day or night with minibus and coach hire available every day of the year.
When you book with Deansgate Minibus Hire we can take you to any destination in Deansgate, or any other town in and around Manchester. We can even offer airport transfer, whether you hire a taxi, minibus or coach to any destination in the UK.
Deansgate Locks!
Trendy area for all of those looking more many bars in one place without the need to walk very far to get from one to other. We mean this literally as they are all next to each other. Perfect for those who want to party the night away. You'll find establishments such as The Comedy Store, Revolution and Baa Bar. This canalside location is perfect for those who want to stay in one area. Find DJ's playing all night and plenty of cocktails. We can make sure you and our group get to and from the locks without having to wait in the cold for taxis. Or pay ridiculous late-night taxi fairs. Ideal for groups from Stag Nights and Hen Parties to Birthdays and Students!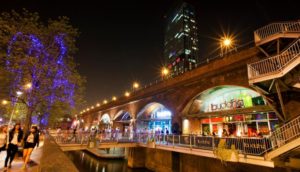 Deansgate Minibus Hire lets you travel in comfort
We can transport business people to a business meeting, conference or exhibition. We can take you to a lunch appointment and pick you up afterwards.
You can book in advance or an emergency. Go online or contact us on 0161 354 1064 or email at info@investravel.com